Due to high demand, please allow 10 to 21 business days for your order to arrive. We source products from all over the world to bring you epic offers at the lowest prices. This means that sometimes you have to wait a little longer to get your order but it's always worth it!
*Please note that 70% of our orders arrive within 10 business days.
FREE WORLDWIDE SHIPPING
Your bed sheet will not move an inch, even if you sleep like a tornado!
- Stop fighting to fix your messy wrinkled sheets every day!
- Your bed looks tidy and your sheets are kept in place even after a long night of restless sleep.
- Stop wrestling your bed sheets every morning and save valuable time.
- The perfect triangle shape to keep your sheets in place.
- Get your perfect fit with these adjustable clips.
- Protect your fabric with the gentle built-in plastic clenching system.
- Ideal for your bed sheets, grill covers, tablecloth, couch or seat covers and more.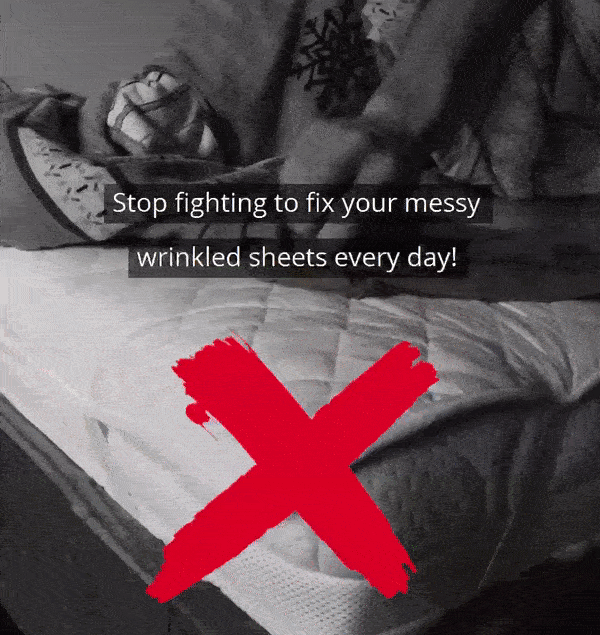 We believe you shouldn't go through the pain of fixing up your bed sheets every day!
Keep your bed sheets neat and tidy and your bed looking great without any effort.
A clean, uncluttered bed changes your entire room. But some days, you just don't have the time (or the will!) to make your bed. We get it, we've been there - who hasn't?!
These small clips keep your bed sheet in place and are completely adjustable, so you can find the perfect fit for you.
Specifications:
Quality nylon elastic rope.
Hold sheets tightly.
Rust-resistant metal plating.
Duckbill clip containing soft plastic that protects the fabric of your sheets.
Adjustable length for the perfect fit.
3 corner straps.
Perfect for bed sheets, mattress pads, tablecloths, ironing board covers, slipcovers and more.
Each pack includes 4 bed sheet clips.
---